SafeWay Driving Bryan/College Station
Located inside H-E-B Tower Point off William D. Fitch

SafeWay Gives Back: Gary Green
When Gary Green, a longtime SafeWay Instructor, lost his mother in December 2016, he decided to create a safe driving scholarship in her honor.
About SafeWay Driving Bryan/College Station
SafeWay Driving has expanded to Bryan/College Station, with the local franchise operated by Texas A&M graduates Will and Leslie Oliver.

The company offers a variety of driver-training packages covering all levels of experience, including teens, adults, seniors, corporate training, and road tests. The program features online curriculum and in-car experience with instructors who receive 90 hours of required training in the SafeWay Driving system.

With two future drivers in the house, what better way to ensure safe driving then opening a new business that advocates safe driving and that is what Will and Leslie Oliver decided to do. They found themselves drawn back to Aggieland, a place they loved and knew that their new business endeavor would be supported by a community who embraces their citizens and prides themselves on a safe environment.

SafeWay Driving is not only for a new/teen driver trying to obtain their driver's license, but it is also for the experienced driver who may want to improve their skills and confidence on the road. SafeWay Driving also provides corporate instruction in order to keep your most valuable assets safe.

When asked "Why SafeWay Driving? Why now?" Leslie Oliver's response,"Why not! We moved back to raise our two boys in a great town. With me being from Bryan and Will from a small town we wanted to raise our boys here, similar to the way we grew up, and what better place than Aggieland! SafeWay Driving is a way that we can support and give back to the community by helping making the roads safe by offering the best in class training in Texas to ensure our teens learn how to make safe habits and safe choices when behind the week. A strong foundation of driving skills that will be with them for the rest of their lives."
Site Information
Drive Hours
Sun-Sat 8:00AM - 10:00PM
Bryan/College Station Instructors

Richard Compton

Tameka Day

Trenica Foley

Ruben Williamson

Willie Salinas
Services of Bryan/College Station
SafeWay Bryan/College Station is Aggie Owned and Operated by Leslie and Will Oliver who are excited to be back in Bryan-College Station as permanent residents since attending Texas A&M University. Will, Leslie and their team are committed to preventing "The Phone Call" that nobody wants to receive by providing the best driver training in the Bryan-College Station area. Take your driver training seriously, and take it at SafeWay.
Take Driver Training Seriously
Choose the amount of SeatTime™ you want to increase your skill level for a lifetime of safe driving. Remember, you don't become a safe driver by getting a driver's license. You become a safe driver by spending hours of time practicing in the car with a Certified Professional Driving Instructor. All packages include the Online Course and meet State Minimum license requirements, so you and your family decide which skill level is best for your future.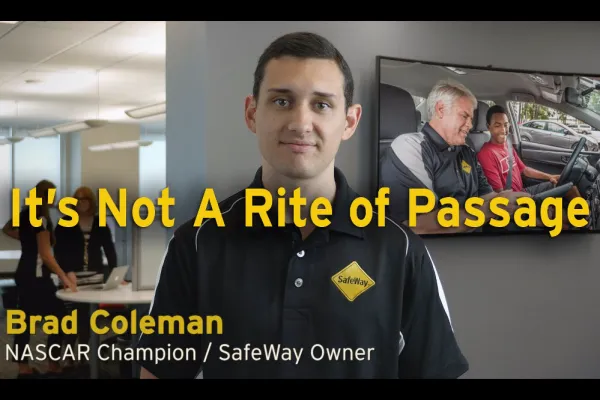 Need help selecting the right package
Just answer these simple questions
What is Your Goal?
To Improve My Driving Skills
To Meet Employer Mandated Training
To Get an Insurance Discount
Do You Have a Valid Permit or License?
How Do You Want to Improve Your Driving?
How Old Are You?
What Does the Court Require?
What Does Your Employer Require?
I Need a Driving Assessment
What is Your Training Goal?
Select Approved Training Option
Total Seat Time Hours
The total number of hours your teen will drive with a Certified Professional Driving Instructor included in each package.





State Driving Hours Remaining
State Driving Hours Remaining
The Texas "Less Tears-More Years" Act requires a parent, guardian or professional instructor to drive with each teen for 30 hours, no more than one per day, and 10 of which must be at night, following completion of their initial driving course. The number in this chart shows how many of those hours you must still complete before your teen can get their driver license. Why not let our Certified Professional Driving Instructors take that burden away while training your driver in a safety equipped, well-marked training car?
State Minimum License Requirement
State Minimum License Requirement
The least training required by State law to get a teen driver license. Does not meet new National Standards of 10 hours minimum behind-the-wheel training and is recommended only for those concerned with their budget. We believe it is the best State Minimum required driving program in Texas but still recommend more hours of in-car training for your young driver.
Exceeds National Standards
Exceeds National Standards
New National Standards suggest a minimum of 10 Hours driving.
Add'l. Freeway/Intersection/ Parallel Parking Practice
Add'l. Freeway/Intersection/ Parallel Parking Practice
Most teenage incidents occur at intersections, on freeways and in parking lots. Every young driver needs extra coaching in these areas beyond what the State Minimum program provides.
Priority Instructor Selection
Priority Instructor Selection
Provides you the option of selecting your instructor. Regular drivers are not allowed to select instructors due to scheduling conflicts.
Emergency Roadside Kit
A cool SafeWay Driving branded emergency kit that includes over 30 emergency care items for you and your car.
Fulfills All Parental Driving Requirements
Fulfills All Parental Driving Requirements
No additional driving is required by parents at the end of this course.