Thanks for printing! Don't forget to come back to SafeWay Driving for fresh articles!
Adult Driver Training
Get On The Road to Safe Driving
Total Seat Time Hours
The total number of hours your teen will drive with a Certified Professional Driving Instructor included in each package.





State Driving Hours Remaining
State Driving Hours Remaining
The Texas "Less Tears-More Years" Act requires a parent, guardian or professional instructor to drive with each teen for 30 hours, no more than one per day, and 10 of which must be at night, following completion of their initial driving course. The number in this chart shows how many of those hours you must still complete before your teen can get their driver license. Why not let our Certified Professional Driving Instructors take that burden away while training your driver in a safety equipped, well-marked training car?
State Minimum License Requirement
State Minimum License Requirement
The least training required by State law to get a teen driver license. Does not meet new National Standards of 10 hours minimum behind-the-wheel training and is recommended only for those concerned with their budget. We believe it is the best State Minimum required driving program in Texas but still recommend more hours of in-car training for your young driver.
Exceeds National Standards
Exceeds National Standards
New National Standards suggest a minimum of 10 Hours driving.
Add'l. Freeway/Intersection/ Parallel Parking Practice
Add'l. Freeway/Intersection/ Parallel Parking Practice
Most teenage incidents occur at intersections, on freeways and in parking lots. Every young driver needs extra coaching in these areas beyond what the State Minimum program provides.
Priority Instructor Selection
Priority Instructor Selection
Provides you the option of selecting your instructor. Regular drivers are not allowed to select instructors due to scheduling conflicts.
Emergency Roadside Kit
A cool SafeWay Driving branded emergency kit that includes over 30 emergency care items for you and your car.
Fulfills All Parental Driving Requirements
Fulfills All Parental Driving Requirements
No additional driving is required by parents at the end of this course.
Why SafeWay Driving For Adults?
Are you over 18 and getting your license for the first time, a new resident of the United States or an adult looking to hone your skills behind the wheel? When it comes to safe driving, age doesn't necessarily equal expertise. Whether you need to get your drivers license, build your confidence following an incident or you are the adult child of a senior driver who wants your parent's driving skills evaluated, we offer a range of packages that will provide you and your family the peace of mind that only comes from the Best Driver Training in Texas.
The Very Best In-Car Training: From top certified professional driving instructors.
Ultimate Convenience: Handle everything from your computer except the driving.
Save More Time: Our additional Valet Service can pick you up and drop you off.
Personalized Training: Work on the driving skills you want to improve.
Experience: Over 44 years of training more than 275,000 SAFE drivers.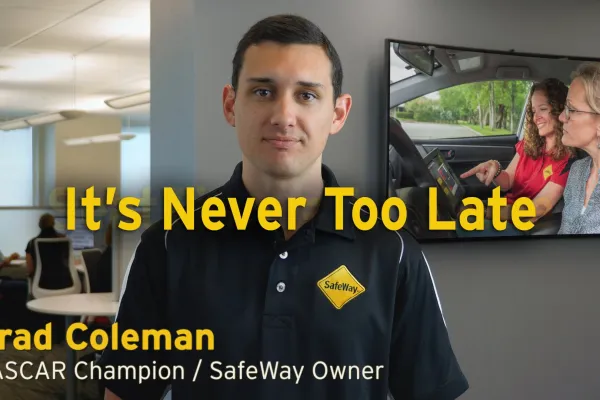 Adult Driver Training FAQs
Find Your Nearest SafeWay Instructor