ADVANCED TRAINING AT THE NEXT LEVEL
There are no shortcuts to becoming a safe driver. Increase your teen's driving skills with our second highest rated Advanced training package. Their driving performance will be taken to the next level after 27 total hours of in-car training with a Certified Professional Driving Instructor on Advanced driving tracks in our Advanced Plus program.

ADVANCED DRIVING TRACKS
Build your teen's skills and confidence on the road in a variety of driving situations.
The SafeWay Advanced Plus program is a graduated training program that puts your young driver through 20 driving environments on 10 planned tracks that include both daytime and nighttime situations while also fulfilling 27 of the 37 State required hours.

EXCEEDS NATIONAL STANDARDS
Even the State knows that 7 hours is just not enough for a young driver, which is why the New National Minimum recommends at least 10 hours of in-car professional driving instruction.
The SafeWay Advanced Plus exceeds this recommendation and prepares your teen for today's dangerous roads with 27 total hours of SeatTime.

VIP DRIVER STATUS
Having VIP Driver Status has many advantages, including Priority Instructor Selection.
We understand that every teen learns differently and some respond better to different teaching styles.
As part of our VIP Concierge service, this added benefit is only available to SafeWay Advanced training program drivers.
Additional Features Include
When you enroll in the SafeWay Advanced Plus, your teen will receive 27 SeatTime Hours, leaving only 10 additional State required hours to be completed by you. Road crashes are the #1 cause of teen deaths in the U.S. because young drivers are not getting enough SeatTime with a Certified Professional Driving Instructor. The SafeWay Advanced Plus package will increase your peace of mind by taking your teen's driver training to the next level.
Exclusive Insurance Discounts
Add'l. Freeway/Intersection/ Parallel Parking Practice
Exceeds National Standards
Priority Instructor Selection
Emergency Roadside Kit
State Minimum License Requirement
32 Hour Online Course
Online Permit Test
7 Hours Driving/7 Hours Observation
24/7/365 Online Scheduling
State Alcohol Course Credit
Enroll Now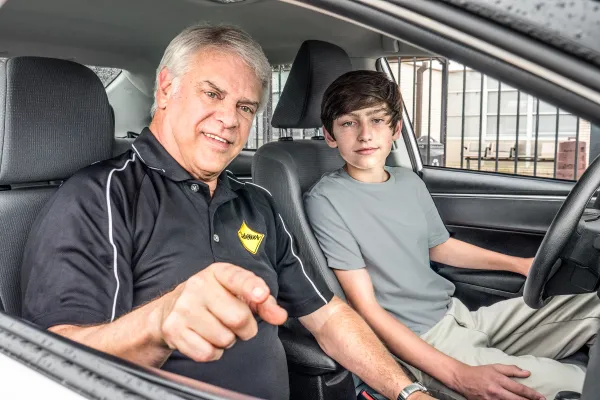 Special Needs - Driver Training At Your Speed
If you or your child has learning differences, that doesn't mean you can't be a great driver. Learn more about how SafeWay Driving promotes driving success for all of our students.
Learn More