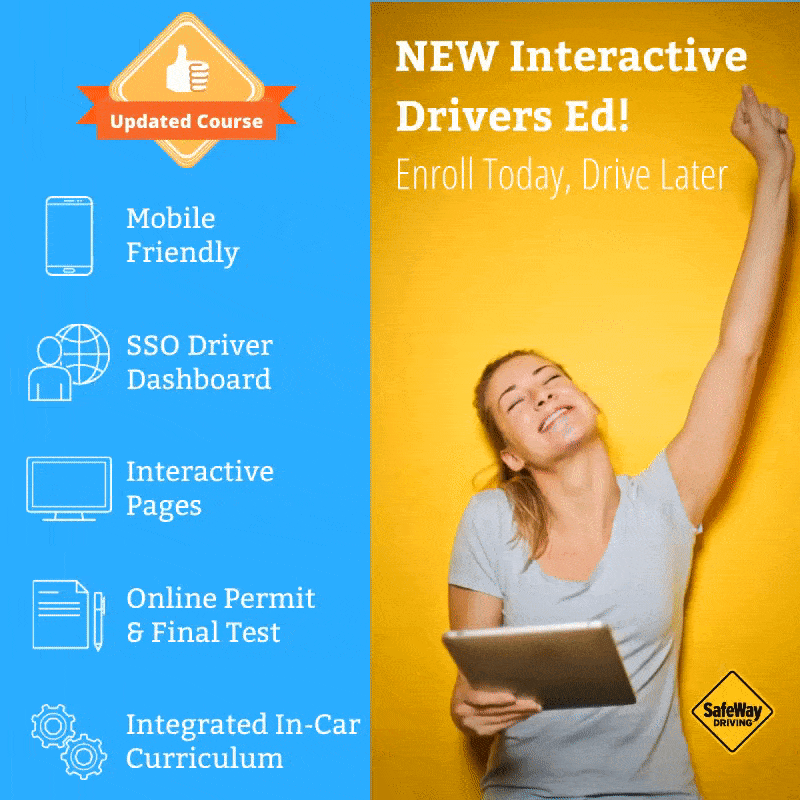 You Talked, We Listened - Introducing our updated online course eLearning Platform! As of last month, SafeWay Driving moved our Texas Teen Driver Education Course to a new eLearning platform. Supported with a variety of features, the new platform provides a better user experience on all devices to our students.
If you are a parent or teen wondering what driver ed program is the best for you, we invite you to take a moment to learn about our new features.
Mobile-Friendly
Our new learning management system allows our course to be accessible on all devices - pc, tablet, and smartphones. With dynamic sizing, the course adjusts based on the student's device to display each media element in the best possible way. The platform saves user's progress every time they exit a session. Our students can login at home on their laptop, sign off to go run errands with their parents, and then log back in on their iPhone without missing a beat.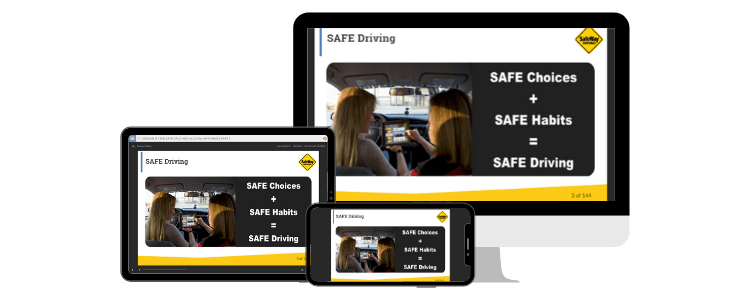 Single-Sign On Driver Dashboard
All SafeWay Driving students have access to their online course through their Driver Dashboard during enrollment. The Driver Dashboard allows students and parents to keep track of their progress in their driver education program, schedule drives when eligible, and have access to important resources. Every online student can also access their online course through their Driver Dashboard with a single-click. They do not have to worry about remembering one username for their online course and another for their SafeWay Driving account. Online course progress is updated on their Driver Dashboard every 24 hours and students get email and text (optional) alerts when they hit certain milestones.
Interactive Course
At SafeWay Driving, we strive to provide students convenient driver ed programs without sacrificing quality. To ensure our online students receive the same quality instruction they would from an in-person environment, we have incorporated several interactive elements into our course: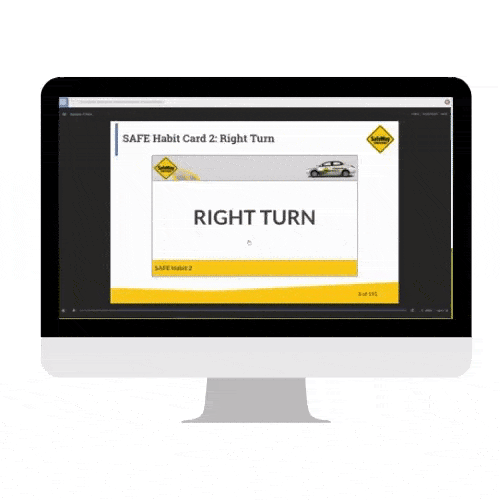 Throughout our course, we have a variety of interactive pages to make sure students are engaged with the curriculum, instead of just reading pages of text. Some of our favorite interactive page types are the drag and drop exercises and SAFE flashcards.
Some topics are best illustrated with the use of video. We use a combination of educational videos produced by SafeWay Driving and by other credible third-parties, such as the National Highway Safety and Transportation Association (NHTSA). Following certain videos, students are required to answer a series of questions to gauge their understanding of the topic. If the students do not answer the required number of questions correctly, they will have to re-watch the video before moving forward. These video questions help make sure our students are not just pressing play and walking away.
Case Studies and Reality Checks
To reaffirm a student's knowledge with critical topics, there are a variety of question exercises throughout the course. A series of case studies and corresponding questions are used to help students simulate real-life incidents and the affect certain variables such as car speed, path of travel, etc. could have in the situation or on a wreck. These types of exercises take the knowledge a student has learned in the course and applies it in context of the real roads where they will eventually be driving.
Additionally, in the course each session is followed by a session Reality Check. Reality Checks will cover content discussed in previous session and quick check questions. Questions are pulled from a test bank to ensure each student has their own testing experience. At the end of each reality check students can review their results and determine what topics they may need to review in more detail before the permit (Learner's License) or final tests.
Online Permit and Final Test
It is common for students to be concerned about tests and have some testing anxiety. Instead of taking the written test in-person at the DPS, students get to take their permit (Learner' License) test online after 6 hours of coursework by completing sessions 1 through 3. Before the test, they complete a variety of practice tests and quick checks that they can review and study at their own pace. Once they are ready and in a calm environment, they can take the written exam online. Upon successful completion, students are shipped their permit (Learner's License) certificate via Priority Mail and can go apply for their learner's permit/license at the Texas Department of Public Safety.
The final classroom test is also conducted online. After a practice test and review of course curriculum, students will take their final test online. Students have up to 3 attempts to get a passing score on the final test. Once a student passes the final classroom test and finishes any remaining SafeWay Driving services they enrolled in, a completion certificate will be shipped via priority mail.
These online tests make sure to keep the amount of stress to the student and the amount of time spent at the DPS to a minimum.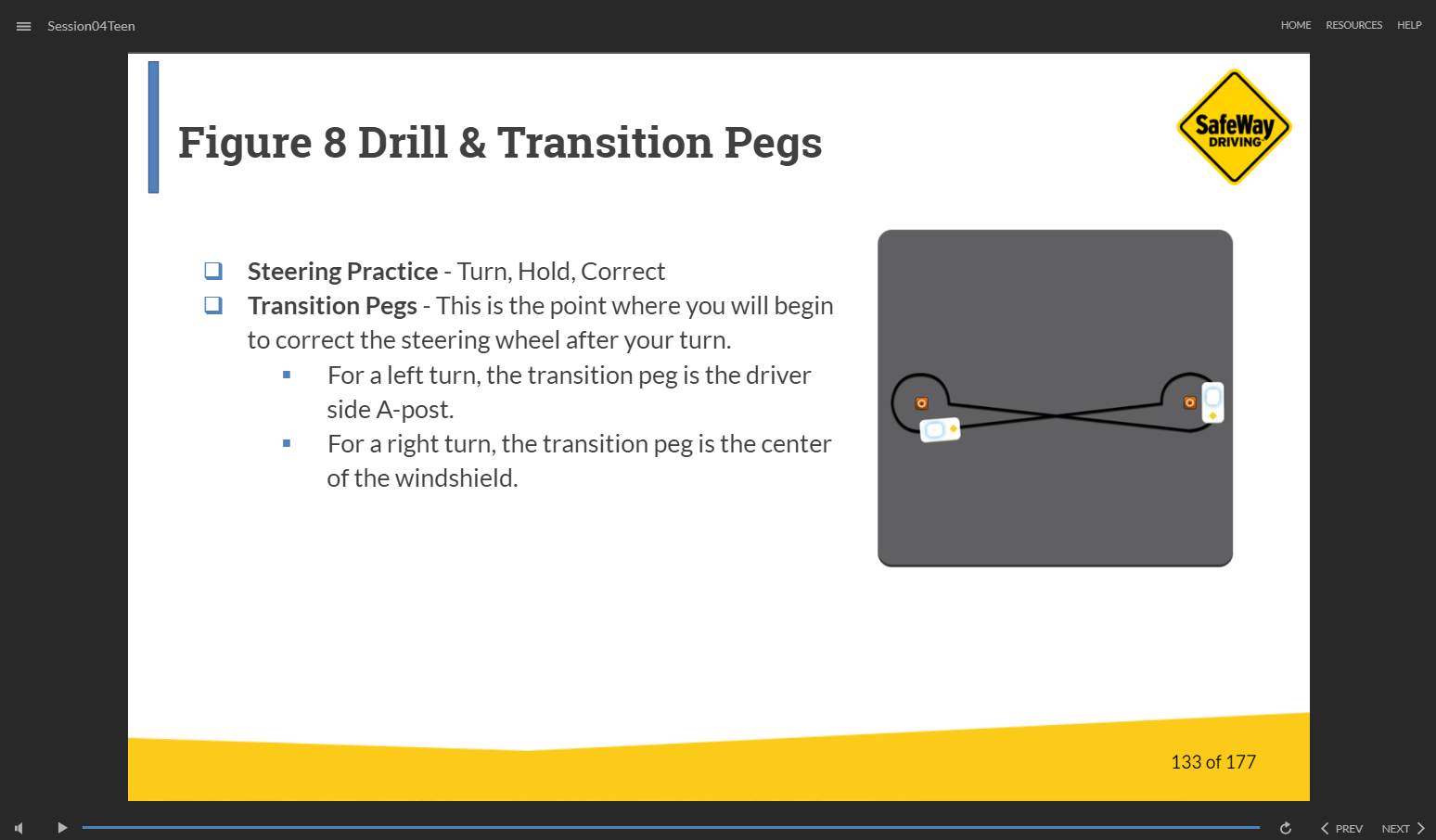 Connect your online learning to your in-car training
One of the most unique features to our online driver education course, compared to other providers, is the integration of the online learning with in-car training. Throughout the course, we detail the different driving lessons students will participate in at SafeWay Driving or should practice at home. These driving lesson plans include in-car video demonstrations, graphical explanations of driving maneuvers, and step-by-step procedures on how to go from the parking lot to the freeway safely. For students who complete their required behind-the-wheel and observation training with SafeWay Driving, these chapters make sure they have a clear idea of what to expect from their instructors and from themselves.
Our team at SafeWay Driving works hard to provide quality driver education and make Texas roadways safer. We are confident that these updates to our online course eLearning platform will continue to elevate the user experience for our SafeWay Driving students.
Start your online course today and drive with SafeWay when you are ready.