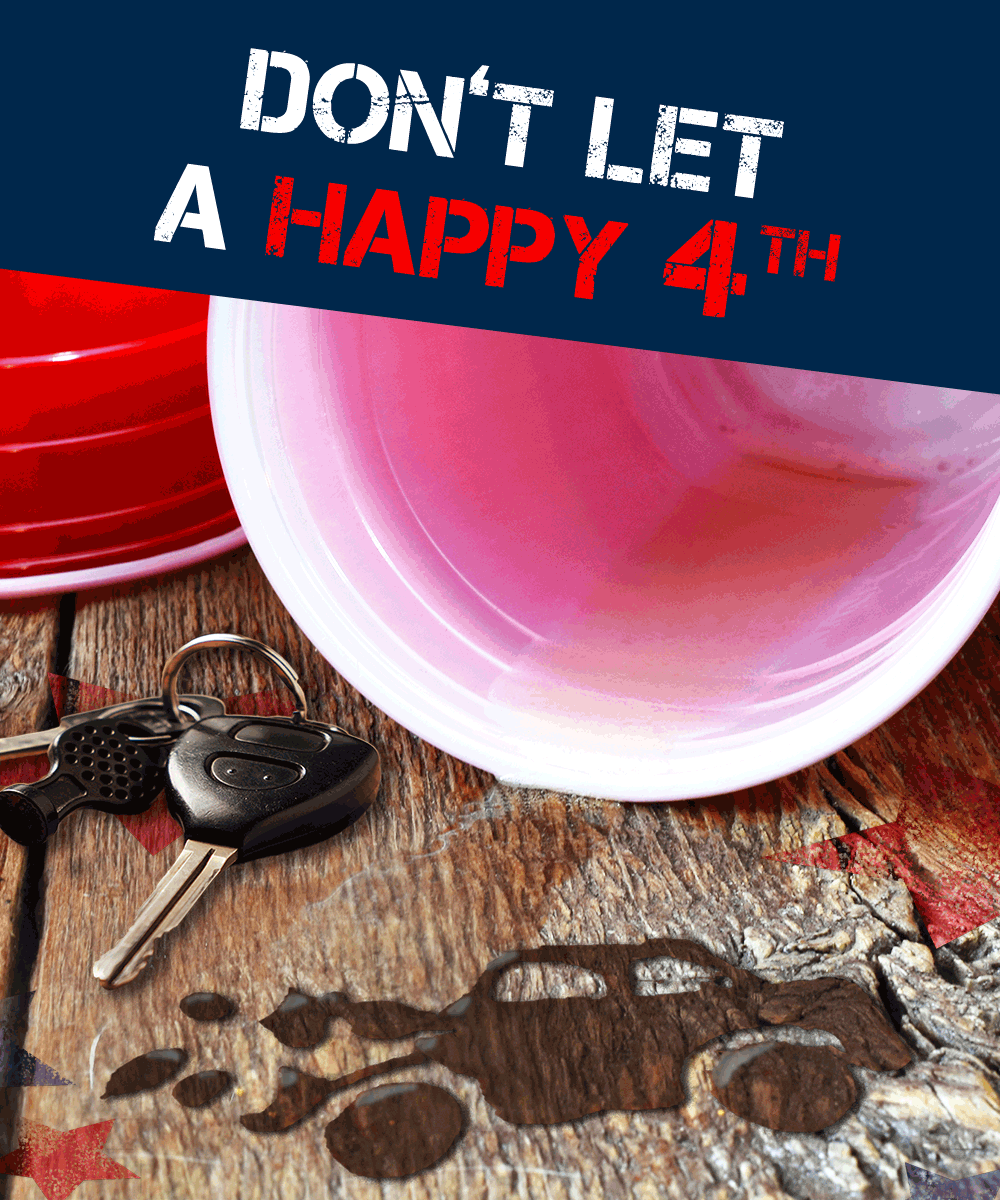 The Fourth of July holiday is about coming together to celebrate our country. Surrounded by friends, family, and fireworks it is easy to forget buzzed driving is drunk driving. It is even easier to forget that the Fourth of July holiday is one of the most deadliest holidays due to impaired driving incidents.

According to the National Highway Traffic Safety Administration (NHTSA), over the holiday (July 3rd-5th) in 2018:
193 people died in motor vehicle traffic crashes. 40% (78) of these fatalities occurred in alcohol-impaired crashes.
71% of these alcohol-impaired fatalities involved at least one driver or motorcyclist with a BAC of .15 or higher.
So what can you do? Celebrate with a plan!
Designate a Sober Driver
Buzzed driving is drunk driving - even if you have had only one alcoholic beverage you are impaired and should not drive.
Identify a designated sober driver before you begin any festivities.
Have a Back-up Plan
It is important to always have an alternative mode of transportation in the event of emergency or you get separated from your designated driver.
Before you travel identify your local public transportation options, a cab service, or download a ride-share app. You can find local transportation options here.
Know When to Say No
Your safety is your responsibility - never enter a vehicle with an impaired driver behind the wheel.
Do you have a friend who is about to drink and drive? Take the keys away and make arrangements to get your friend home safely.
Remember if you are under the age of 21 in the state of Texas, having any alcohol in your system and driving is illegal.
Call Law Enforcement
If you see a drunk driver on the road call local law enforcement or 911.
Remember, if you are driving, to pull over and park in well-lit area before using your phone.
Remember Social Distancing
With COVID-19 your holiday plans may be different than normal. Before travel, research your destination and plan accordingly with local and event venue safety guidelines.
Have a mask available. Many public transportation methods and ride-share services require or highly recommend their riders to wear a mask.
At SafeWay Driving we are passionate about making the Texas roadways safer. We want everyone to travel safe and prevent the phone call no one wants to get. So remember, have a plan, wear a seatbelt, and arrive the SAFEway!
Interested in learning more about the Fourth of July holiday and buzzed driving? Download our fact sheet.